MASSAGE THERAPY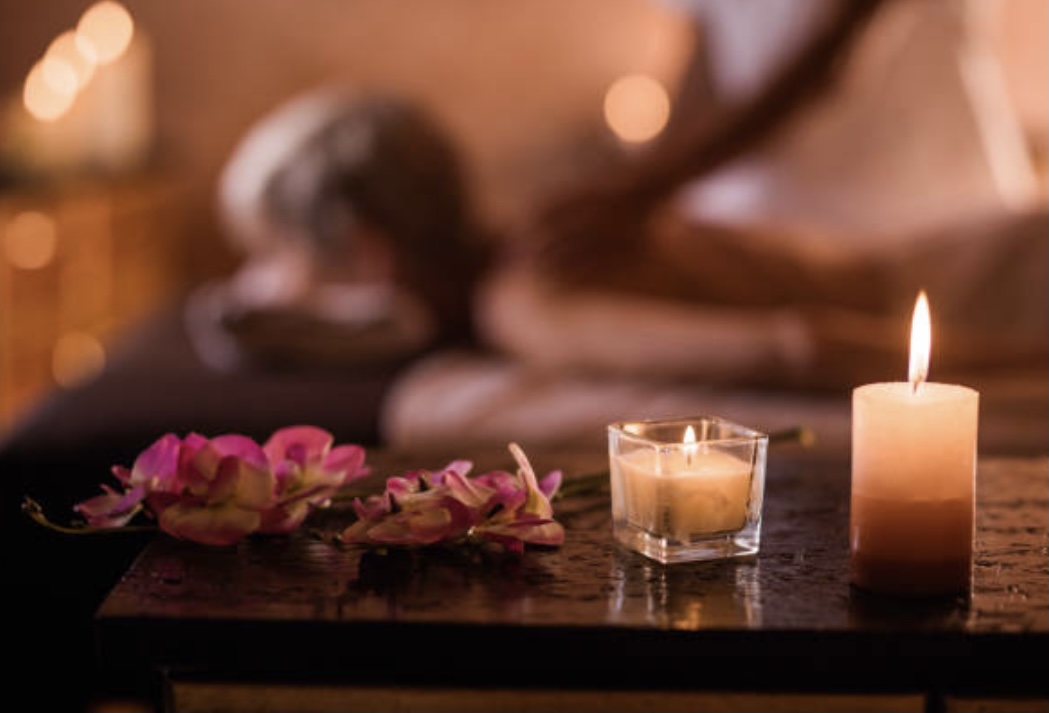 At SHēK Salon, Day Spa & Hair Loss Center, we're committed to a stress-free experience, every time. This includes friendly staff, professional massage therapists, and a calm, inviting environment. Massage Therapy is the manipulation of soft tissues in order to increase circulation, maintain flexibility, and release muscle spasm and pain. Massage slows the heart rate, promotes deeper breathing, and encourages relaxation and an overall sense of well-being.
While massage can be used as a treatment, it can also be used as preventative care. Here's what else you can expect from your first session.
Meet and Greet
Once you arrive at SHēK, our front desk will greet you and ask you to fill out a Massage Wellness Chart. The Massage Wellness Chart is where you record any medical history, past/present injuries and other physical conditions we should be made aware of.
Plan Ahead: It's helpful to arrive 15 minutes early for your appointment. This will give you time to complete your paperwork and take a few minutes to relax and unwind.
Starting Out Your Session
Your massage therapist will greet you and will then take you to a private, peaceful, spa treatment room where a comfortable massage table dressed with a cozy blanket and crisp, fresh sheets awaits. A small table for your personal belongings and a chair are also provided for your use. Your massage therapist will review the Massage Wellness Chart with you. They will inquire about the reason(s) you are coming in for a massage, your current physical condition and any specific areas in which you are experiencing pain or would like to address during your massage. Your Therapist will perform a Postural Assessment; this gives your therapist insight to the areas that need attention during your session.
Your massage therapist will then leave the room and wait outside while you disrobe to your level of comfort. The massage etiquette varies for clients. Some clients prefer to completely disrobe, while some will remain partially clothed. Either option is fine. Once disrobed, you will lie on the massage table face down, under the top sheet. Your massage therapist will give you a few minutes for this process and will knock on the door to ask if you are ready before entering your room.
You will always be draped with the top sheet during your massage session and an additional blanket is available at your request. The etiquette your massage therapist will follow is to only uncover the part of the body they are working on, ensuring that your modesty is respected at all times.
You can expect a tranquil and comfortable environment during your massage. There will be relaxing music playing, unless you request otherwise.
Sound Advice: Some people like to talk during a massage. Some prefer to relax without conversation. Do what feels best. We'll follow your lead.
During Your Massage
Before beginning the session, your massage therapist will ask you to alert them if, at any time during the session, a technique or stroke they are using is uncomfortable. Depending on your specific needs or requests, your massage therapist will either perform a customized full-body massage (for general relaxation and stress reduction) or focus on the specific parts of your body that you have requested. SHēK Spa uses only the highest quality hypoallergenic massage creams and lotions for your massage.
Communicate: This is your customized massage. If you have feedback on pressure, room temperature, lighting… let us know.
Ensuring Your Wellness
Once your massage therapy session is complete, your massage therapist will leave the room so you may re-dress. Your massage therapist will wait outside the room for you with a glass of water or herbal tea, (whichever is your preference,) and then take you back to the front area when you're ready. Our massage therapy sessions vary from 30, 60 and 90 minutes in length. Expect to add on an additional 10 minute pre-interview and 10 minutes at the end for you to re-dress and to address any further questions.
We look forward to seeing you for your first visit and welcome you back if you've been here before. If you have any questions about the etiquette during a massage, one of our friendly front desk associates will be happy to answer them for you.
Hydrate: Water flushes out the minerals that were released during your massage while re-hydrating your muscles and reducing potential soreness. It is recommended that you drink plenty of water in the following 48 hours after a massage therapy session for best results.
MASSAGE THERAPY
AMOUNT
Chair Massage
$20
Massage
30 Minute Session
$62
60 Minute Session
$77
90 Minute Session
$103
| | |
| --- | --- |
| HOT STONE THERAPY MASSAGE | AMOUNT |
| Stone Therapy is a very relaxing service using warm, smooth stones made of basalt and igneous. Stone Therapy is useful in dissolving stress, removing energy blockages and neutralizing negative energies. It also increases blood flow, releases toxins, and encourages relaxation of soft tissues. The heat from the stones causes the muscles to relax quicker, resulting in extra stimulation. This allows you to become balanced and harmonized within yourself. | |
| 60 Minute Session | $87 |
| 90 Minute Session | $113 |
| | |
| --- | --- |
| REFLEXOLOGY | GUEST |
| Reflexology is a form of compression massage. It is based on the principals that reflex points in the hands and feet are related to every organ in the body. Applying pressure to a reflex point will effect beneficial changes in the other areas of the body. | $40 |
BODY TREATMENTS
GUEST
Our Body Treatments and Wraps are customized to your needs and desired outcome. Through consultation your therapist will suggest and help you choose the best treatment solution for you. Relaxing, hydrating, detoxifying, exfoliating, and Body Shaping are all options. Also, ask about our seasonal featured treatments.

Treatment times vary from 1 hour to 1 1/2 hours.
Please allow an extra 1/2 hour for consultation and changing.
60 Minute Session
$77
90 Minute Session
$103